"Let's you concentrate on what you record while you record.
Handle everything else in postproduction."
Key-features:
Integrated Sound Recording from microphone (which is synchronized with the screen video.)
Lossless Master format - Compression and scaling as a postproduction step.
Supports multiple video formats in postproduction.
Can also record OpenGL 3D animations.
---
All trademarks belong to their respective owners. We indicate some trademarks used in this text but lack of such an indication does not mean that a name is free to use.
Without guarantee, we list the owners of some trademarks as known to us:
DemoRecorder® is a registered (supplemental index) US trademark of Christian Linhart.
Linux® is a registered trademark of Linus Torvalds.
Macromedia® and Macromedia Flash® are registered trademarks of Macromedia Inc.
SnagIt®, Camtasia® and Techsmith® are registered trademarks of TechSmith Corporation.

---
Tutorial | Features | Download | Get Free Trial | Buy | Support
---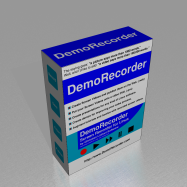 The saying goes:
"a picture says
more than 1000 words."

Well, and I'd like to add:
"a video says
more than 100,000 words."
Our online shop is operated by Esellerate.
Esellerate is a reseller of our products.